Blackwater: Profitable Patriotism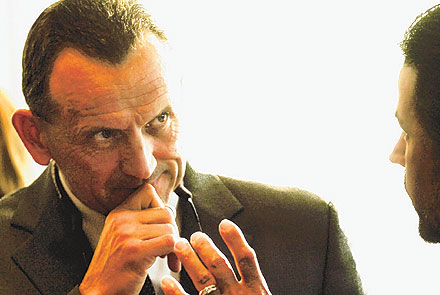 Blackwater USA President Gary Jackson, a former SEAL, exudes a can-do spirit that radiates through the company. MORT FRYMAN / THE VIRGINIAN-PILOT


By BILL SIZEMORE AND JOANNE KIMBERLIN, The Virginian-Pilot
© July 24, 2006

Part 2 of 6

MOYOCK, N.C. — Not many companies can point to a 598-pound stuffed black bear in the lobby and say it was shot right on the corporate grounds.

Then again, not many have a 7,000-acre headquarters on the edge of the Great Dismal Swamp.

Right paw raised high, jaws frozen open, the bear is the star attraction in "the lodge," a rustic log building in the heart of the Blackwater USA complex. The bear was shot in 2000 by a worker hunting on the property.

That was a bad year for the bear, but a big one for Blackwater. The company had spent its first three years struggling for an identity, paying staff with an executive's credit card and begging for customers.

But in 2000, in the fallout from the terrorist attack on the destroyer Cole, Blackwater found its future: providing security in an increasingly insecure world.

There is nothing humble about the company today. In March, Fast Company business magazine, under the heading "Private Army," named Blackwater President Gary Jackson No. 11 in its annual "Fast 50" list of leaders who are "writing the history of the next 10 years." It made special note of the company's estimated 600 percent revenue growth between 2002 and 2005.

Blackwater has rocketed from obscurity to the big time in less than a decade. Peter Singer, author of "Corporate Warriors" and a scholar at the Brookings Institution, a Washington think tank, says that although Blackwater might not be the biggest player in the private military industry, "they've certainly gained the biggest profile."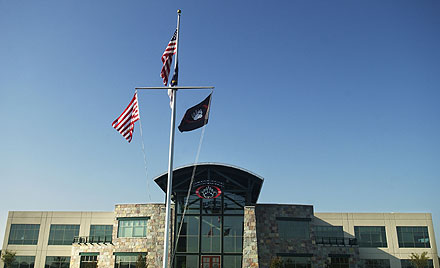 Blackwater's new headquarters building anchors a sprawling compound half the size of Manhattan. The complex includes 40 gun ranges, two mock ships and a small make-believe town. There are plans to build a 30-acre mock city that can be configured to mimic any urban area. CHRIS CURRY / THE VIRGINIAN-PILOT


The Virginian-Pilot
© July 24, 2006

(... story continued)

"All the water on the property looked black," he recalled. "It's colored by the peat."

And the company name was born. On Dec. 26, 1996, Blackwater Lodge and Training Center Inc. was formed.

A month later, the company bought land in Currituck and Camden counties. Plans called for the major construction to occur on the Currituck side of the line, but local opposition sent the growth in the other direction, to the west.

Small and rural, Camden welcomed the development. Maj. John Worthington, a chief deputy with the Camden County Sheriff's Office, was chairman of the county's zoning board at the time.

"I was skeptical at first," said Worthington, who is also a part-time instructor at Blackwater now. "So were a lot of people. We just didn't know what they were. There was some worry that they might be some militant group, like that Randy Weaver guy in Idaho."

But Worthington said Prince and the Blackwater people won over Camden County officials.

"Currituck really missed the boat on this one," Worthington said.

Blackwater is now easily Camden County's biggest taxpayer and employer, with a compound half the size of Manhattan and 450 permanent employees – not counting its database of more than 14,000 independent contractors.

Not everyone is thrilled with the company's growth. Neighbors have complained about noise, traffic and proximity to firing ranges.

For the past two years, Susan Zimmerman has lived in a neighborhood just off Puddin Ridge Road, which leads to Blackwater's main entrance.

"There is so much traffic going in and out of there now," she said. "And if you think about the munitions going up and down our residential road, it's pretty frightening."

Zimmerman said she also hears more noise from the compound these days.

"You hear what sounds like big bombs going off," she said. "It scares the bejeebers out of you."

When Jackson got wind of the plans for Blackwater, he was nearing the end of a 23-year Navy career.

At the time, he was officer in charge of a counter-drug platoon in the Bahamas. He had been priming himself for civilian life by learning to write computer code and create Web pages.

"So I wrote a Web site and mailed it to Erik Prince on a 3½-inch disk," he said. "We still have that disk, by the way. It's terrible. But this was nine years ago, and they loved it.

"They hired me basically as a jack of all trades. I transitioned to the civilian world in about 24 hours."

Jackson would eventually rise through the ranks, all the way to president. With CEO Prince choosing to stay out of the public eye, Jackson often plays the role of top-ranking spokesman for Blackwater.

The lean and lanky Jackson is the ultimate "doer," swimming two miles most mornings in the lake in front of the headquarters and jogging on lunch breaks. His intensity ripples through the organization, setting a full-tilt pace for others to follow.

Joining Jackson on his daily swims and runs are Blackwater executive vice president Bill Mathews and vice president Chris Taylor. Other company executives frequently come along. Mathews says Jackson revels in their occasional "1-percenter days."

"When we finish a run on a 100-degree day," Mathews said, "he'll say something like, 'We just did something that only 1 percent of the population would do.'"

Jackson has been known to offer a $1,000 bounty to Blackwater employees who will quit smoking for a year.

He recalls the early, rocky days at Blackwater. At first, its founders envisioned a training center serving a 50-50 split of military and civilians.

SET YOUR SIGHTS ON ADVENTURE, an early billboard screamed in fluorescent green letters, aimed at weekend warriors seeking fun with guns.

"We tried everything trying to make this business go forward," Jackson said. "We started building our own target systems because the commercial stuff that we bought off the shelf was not holding up. For years two and three, that was really the major cash flow that was coming in here."

Even with the luxury of Prince's financial backing, "we were a very small business in the beginning," Jackson said. "We counted our pennies."

Initially working out of an office on Laskin Road in Virginia Beach, Jackson remembers times when he paid the staff with his American Express card while waiting for the next advance from the home office.

"We did the Motel 6 thing," he said. "I personally drove tens of thousands of miles dragging stuff up and down the eastern seaboard. I got kicked out of trade shows because I couldn't afford to pay for a table but I was in there guerrilla marketing."

Ultimately, Blackwater's struggle to forge its identity resulted in a parting of the ways between Prince and his early collaborator Clark, who left the company in 2000.

"Just call it philosophical differences," Clark said, declining to elaborate.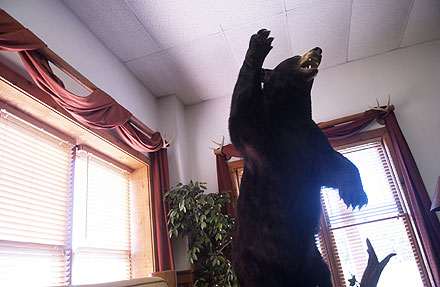 Blackwater is all about the bear – from its logo to this specimen shot on company grounds in 2000. The nearly 600-pounder greets visitors in the lobby of "the lodge" in the heart of the Blackwater compound. Bears still roam the 7,000-acre property – only 500 of which are developed. CHRIS CURRY/THE VIRGINIAN-PILOT


The turning point for Blackwater came with the October 2000 suicide bombing of the Norfolk-based Cole. The al-Qaida terrorist attack, in the port of Aden, Yemen, killed 17 sailors.
"Osama bin Laden turned Blackwater into what it is today," Clark said.
The Cole bombing settled the company's internal debate: Blackwater would quit foraging for civilian business and start going for federal contracts in a big way.
"We were at about 20-something employees," Jackson said. "The Cole was bombed, and the Navy did a bottom-up review and looked at their processes, their procedures, their tactics, and they found out that there were some glaring holes. The young sailor was not getting the training with live firearms."
The Navy, along with the other services, had been downsized in anticipation of a post-Cold War "peace dividend."
"They lost most of their firearms instructors," Jackson said. "So they called us up and asked us, could we train up to 20,000 students in a prescribed amount of time … and I said, 'Sure.' And we did it."
Blackwater trained 50,000 sailors under that five-year contract. Today, it trains more than 40,000 people a year from a variety of agencies – including all the military services – at its Moyock compound, which it says is the largest tactical training facility in the world. At least 90 percent of its revenue comes from government contracts.
While the company had struggled early on, its timing was excellent. Several forces had created a perfect storm for the rise of the private military industry.
Instead of peace, the end of the Cold War created a power vacuum and a chaotic world order, putting millions of former soldiers out on the market. At the same time, there was a growing trend toward privatization of government functions. The result: a $100 billion-a-year global business.
Most of the work is mundane, supporting troops in the field by cooking the meals, doing the laundry and driving the trucks. Blackwater's sliver of the industry – accounting for roughly 5 percent of total revenues – provides tactical military services. Other major players in that field include DynCorp International and Triple Canopy in the United States and ArmorGroup International and Aegis Defense Services in Britain.
In the lingo of military wonks, Blackwater and its competitors are at the "tip of the spear."
When al-Qaida upped the stakes with the attacks on New York and Washington on Sept. 11, 2001, Blackwater's business model shifted again.
In the year since the Cole attack, training had dominated the company's mission. After 9/11, the focus began to veer toward on-the-ground security services.
January 2002 brought the start-up of a new division, Blackwater Security Consulting, which quickly landed its first assignment, a classified contract still in force today. The company won't talk about who the client is or what the work entails.
It is known that Blackwater security teams have been dispatched to the Middle East, Asia, South America and Africa.
Contacts can help pave the way for work. Private military companies often pepper their ranks with influential names, and Blackwater plays that game as well as anyone. Last year Prince, a major Republican campaign contributor, snagged two heavyweights as they came through Washington's revolving doors.
Cofer Black, a career CIA and State Department official, is now Blackwater's vice chairman. Joseph Schmitz, a former inspector general at the Pentagon, is the Prince Group's chief operating officer and general counsel.
Connections are desirable at any level. Blackwater employee Gloria Shytles recently won a Republican primary for a seat on Currituck County's Board of Commissioners. Shytles is one of the company's "lead detailers," responsible for matching contractors with missions.
As Blackwater's federal contracts have soared into the hundreds of millions, its revenues and profits can only be guessed at, since the company is privately held.
But Blackwater says it's more about patriotism than profit.
"We're a force for good," said Taylor, a beefy former Marine who has been with the company four years. "We are working in support of freedom and democracy around the world.
"It's intoxicating. This is the best place to work in the world."
It got even better in March 2003, when President Bush expanded the "global war on terror" to Iraq, providing yet more fuel for Blackwater's meteoric rise.
It also got more complicated.
News researcher Jakon Hays contributed to this report.
More Blackwater Articles
• Blackwater: Profitable Patriotism - Jul. 24
• Q&A: Blackwater's founder on the record - Jul. 24
• Blackwater's top brass - Jul. 24
Reach Joanne Kimberlin at (757) 446-2338 or joanne.kimberlin@pilotonline.com.
Reach Bill Sizemore at (757) 446-2276 or bill.sizemore@pilotonline.com.
---
Q&A: Blackwater's founder on the record

Erik Prince
The Virginian-Pilot
© July 24, 2006



Erik Prince, the founder of Blackwater USA, is famously media-shy. But the former Navy SEAL agreed to an e-mail interview with The Virginian-Pilot. Here's the complete text:

Q. Can you tell me a little about your personal history? I know you were a SEAL. When was that? Is that what brought you to the Hampton Roads area? How long did you live in Virginia Beach?

A. I was raised in Holland, Mich. My dad was a very successful entrepreneur. From scratch he started a company that first produced high pressure die-cast machines and grew into a world-class automotive parts supplier in west Michigan. They developed and patented the first lighted car sun visor, developed the car digital compass/thermometer and the programmable garage door opener.

Not all their ideas were winners. Things like a sock-drawer light, an automated ham de-boning machine and a propeller driven snowmobile didn't work out so well for the company. My dad used them as examples of the need for perseverance and determination.

I earned my pilot's license at 17 and entered the Naval Academy after high school intending to be a Navy pilot. I didn't like the academy but loved the Navy. This is where I was first exposed to the SEAL teams. I resigned after three semesters at the academy and attended Hillsdale College in Michigan, where I graduated in 1992. I re-entered the Navy through Officer Candidate School and was commissioned a naval officer. I then joined the SEALs, where I served as an officer at SEAL Team 8. I deployed to Haiti, the Middle East and the Mediterranean, including Bosnia.

As I trained all over the world, I realized how difficult it was for units to get the cutting-edge training they needed to ensure success. In a letter home while I was deployed, I outlined the vision that is today Blackwater.

I lived in Virginia Beach for about five years.

Q. Can you tell me a little about the genesis of Blackwater? What was your motivation in starting the company? Did you have any inkling that it would come so far so fast?

A. Just prior to a deployment, my dad unexpectedly died. My family's business had grown to great success and I left the Navy earlier than I had intended to assist with family matters. I wanted to stay connected to the military so I built a facility to provide a world-class venue for U. S. and friendly foreign military, law enforcement, commercial, and government organizations to prepare to go into harm's way. Many special operations guys I know had the same thoughts about the need for private advanced training facilities. A few of them joined me when I formed Blackwater. I was in the unusual position after the sale of the family business to self-fund this endeavor.

Q. How do you account for the phenomenal growth of Blackwater and the private security industry? Do you expect this growth to continue?

A. Blackwater's growth is due to a few simple, but important facts: We have always delivered our services complete, correct, and on time, and we continue to attract committed professionals who value service over self and who want to have an immediate positive impact for our customers.

Growth in this industry is not restricted to Iraq alone. Because of the demand, the companies who have continually invested for the long-term will be the companies who are looked at to provide services whenever they are needed. As I said before, when Blackwater got started there was little focus on training and readiness in individual skills.

We have a very long-term view to our work. We see ourselves assisting in the transformation of the DoD into a faster more nimble organization. The private sector has always led innovation in our country. If the government sees some of the things we are doing, and chooses to utilize us or to adopt and adapt some of our innovations in the defense of the nation, then all the better.

Q. Can you discuss the role played by Blackwater and other contractors in the Pentagon's "total force," as referenced in the latest Quadrennial Defense Review? What is its significance for Blackwater?

A. The "total force" refers to all resources available to be used in the nation's defense. Blackwater considers itself a partner to the DoD and all government agencies, and we stand ready to provide surge capacity, training, security and operational services in various areas at their request. We are honored to contribute in some small way.

American history details the contributions of private contractors in the development of our Nation. Examples include the Jamestown, Plymouth, and Massachusetts Bay colonies; all started as private investment endeavors whose security was provided by PMCs. Across the street from the White House is Lafayette Park; on its four corners stand statues of Lafayette, Von Steuben, Rochambeau, and Kosciusko. All were foreign professional military officers that came here to help build and develop the capacity of the Continental Army. The base of one of the statues bears the inscription: "He gave military training and discipline to the citizen soldiers who achieved the independence of the United States." Lewis and Clark's expedition to explore the American West consisted of some active duty soldiers but their "Corps of Discovery" crew also consisted of what would now be considered contractors.

Q. What are the economics of this industry? How is it cost-effective for the government to outsource these functions?

A. Blackwater and the private sector are able rapidly to tailor a custom solution to solve the customer's problem. Our ability to quickly react with a right-sized solution whose entire cost is only associated with the duration of the contract is cost-effective because there are no subsequent carrying costs like salary, medical care, retirement, etc.

My family's business was automotive supply, one of the most efficient and globally competitive in the world. You wake up in the morning having to drive efficiency throughout the organization or you will be driven under. We strive for that level efficiency in what we do today. In very competitive industries, the purchasing/contract officers understand your business as well as you do. The government can ensure good value for the taxpayer by pushing that level of competence and accountability to its purchasing agents and contracting officers too.

Q. There have been calls for more regulation of this industry. Do you agree that any further regulation is needed? If so, what could you support?

A. Given the sensational tone of the media coverage our industry receives, it is understandable that there are calls for more regulation. We certainly agree that our industry should be accountable and transparent, but we should carefully analyze the domestic and international regulations that already exist so that further conversations can be had from a common foundation of accurate information. There are already many tools at the disposal of purchasing agents, government contracting officers and law enforcement officials to ensure proper behavior of PMC's. For example, early privateers (the forbearers of the U.S. Navy) would post a significant performance bond to receive their Letter of Marque. We fully support high standards with high enforcement that drive unethical, immoral players from our industry.

Q. Some contractors have been involved in financial or abuse scandals. How can that kind of thing be avoided?

A. Those companies or individuals who disregard the moral, ethical, and legal high ground are not long for this industry. Closely working together with contracting agencies, contracting officers, and policy makers can only reduce the opportunities for financial and other abuses. The key to success is leadership and balance; strong corporate governance, and operational and "field" leadership at all levels carries the day always. We want to reduce opportunities for abuse without constraining the flexibility that makes our industry so valuable.