Vietnam War: "It was their country. They deserve respect."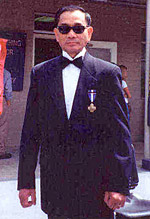 By Dan Southerland
2006.03.24

Lubbock , Texas —When Hollywood made a movie about the dramatic rescue of a downed American pilot during the Vietnam War, it left one man out: the South Vietnamese navy officer who was a key member of the rescue team.

In April 1972, during the largest search and rescue operation of the war, Petty Officer Nguyen Van Kiet spent 11 days behind enemy lines helping to locate and extract the U.S. airman.

Kiet's story was highlighted among many others honoring the South Vietnamese military during a recent two-day conference organized by The Vietnam Center at Texas Tech University . The center's main goal is to collect archives representing all aspects of the war, including the work of those who supported the war as well as those who opposed it.

Why was the heroism of Petty Officer Kiet and so many others ignored by the U.S. media and numerous historians during and after the war?
It was easier to cover American actions
First of all, it was easier to cover American actions and American views on the war than to report on the Vietnamese. Due partly to the language barrier, the South Vietnamese were never good at explaining themselves. The Communists were better propagandists. Few American reporters tried to learn Vietnamese and few covered the Vietnamese armed forces with any consistency.